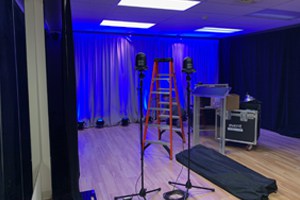 Thinking outside the box simply means you are willing to confront problems in unconventional ways to reach your desired outcome. In mid-March it became clear that one of our client's Continuing Medical Education programs could not take place in its live format. We reviewed the facts, analyzed the financials and ultimately decided that a virtual meeting would be the best option for all parties. And so the process began to convert the conference to a livestream event.
Working diligently, a communications strategy was put in place to notify all stakeholders, the agenda was modified making it more suitable for the virtual classroom, and a venue was secured to produce the conference from a central broadcast center. Check, check, check.
It sounds simple to pivot to a new platform, but the reality is that the project was massive on many levels as we needed to learn and perfect the virtual platform. While our extensive team was coming together to produce the livestream, the spread of the coronavirus was escalating leading to stay at home orders in Massachusetts. Our original hotel-based broadcast location was closing, which forced us to locate a new venue. We quickly secured another venue only to learn this facility would be closing too; it was time to think outside the box.
In lieu of using a hotel or home-based operation (becoming more popular today), we rented a dance studio. This facility allows us to safely bring together physician leadership, project management, a highly experienced technical crew and twenty-seven remote speakers. The undertaking has been challenging, but we have learned countless pearls and pitfalls to help clients produce top-notch engaging virtual and hybrid meetings in the future.